March 11, 2019
Happy MONDAY!
Well, this is my first Newsletter/Blog post EVER, so first of all, Welcome to Our World, I'm so glad you are here!!:)
I will use this first post to introduce our family, and then give you a glimpse of our life in Hillsdale, NY, just in case some of you are newly here!
We are the Stosieks, Family first, and Farmers second…hmm, or maybe just, 'We are a Farming Family!', since neither seems less important! Living and working in step with the seasons, and raising our children to appreciate the brilliance of our natural world, continues to bring rewards greater than we could have ever anticipated…Yes, of course, as farmers, there are always 'mountains' to climb, but even imagining the view from the top is enough to keep us persevering.

The photos below, mostly current, except the first (..how hard is it for you to get your family together for a photo?!;), hint at at least a couple of our passions..organic veggies, flowers, and horses…all of which I love talking about and will do so periodically, through this blog, to give you a glimpse into what keeps us hopping. For more frequent details, I invite you to follow us on Instagram! @markristofarm @bridlewoodblooms @bridlewood_dressage
How we got here!…basically, (back in 1989!), we fell in love and knew that we wanted to create a life working together, so we started farming organic vegetables on family land (while waiting for 3 acres of blueberries to mature…but that's a longer story), with an ever broadening array of specialty flowers, to keep me personally inspired;) Soon, the children made their appearances, and, shortly after, so too did the horses, starting literally one winter, with a borrowed pony, just to prove our little girls', proclaimed passion, was real….it was, and so too, it turned out, was mine!! Horses became a big part of our daily lives, between field work and growing up, and I threw myself into researching all there was to know about riding and caring for horses, holistically, in order to guide us all down a path of true harmony and partnership with these majestic beings. Check out the website for more info on that…
Matthias, our youngest, loves all animals (especially Sir William in that last frame:), but at 15 he has still to find his own calling;)…he loves acoustic guitar and photography, and recently picked up the trumpet…but he's mightily attracted to all things with wings, especially ones that can be guided by remote control…really, he's itching for flying lessons himself!
So, I hope you'll all chime in and let me know what inspires you, and I will certainly welcome your questions to guide my own ramblings;)…
Here's a multi faceted update on what's happening currently on our three farm ventures!
Markristo Farm -
First things first, we always get asked where the 'name' came from, so here's the deal. After 2 years in the Peace Corp, Martin returned home from the Philippines, and deciding to farm, he coined the word, using the three first syllables of his own name, Martin Christian Stosiek (Mar-Chris-Sto). I just so happened to come along about then, and since I fit right in, we figured it was meant to be:)…so we now explain, it's a combo of both our names, Martin & Christa Stosiek. We used a 'k' instead of a 'ch', just so the phonetics were more obvious…but in doing so, of course, Martin is now very often called Mark;)

In terms of the business of agriculture, we are most proud of the fact that we came to farming with only a dream, 'as poor as church mice', and consequently, have built up a financially sustainable family enterprise, with basically shear wit and hard work. Our community of supportive friends and members, inspire us daily and we continue to serve them with joy!

Our Year in progress. Like every year, we began in late January, starting thousands of seeds in our germination chamber, that need more time to mature, such as parsley and onions, followed by peppers and eggplants, etc. These starts will get planted in our own fields beginning in April (or March, if we're lucky!), but we grow thousands more to be sold as bedding plants in packs…We started growing bedding plants early on (1992?), for nurseries and landscape architects, to even out the bell curve of our season, creating a market before veggies could be harvested and sold. This effort is well received and increases our income by about 20%.

Diversification is so important, because farming is such a gamble every year…we have no income for about 6 months of the year, and all the stars must align, to ensure the perfect weather for an early spring (something that seems ever more elusive as Climate Change takes its toll). Of course, any fluke warm day in March, will have our accounts calling, ready to place an order!…It's not easy to maintain a restaurant through our long New England winters either! Our nursery accounts will call for product three weeks before our last frost date, if the sun comes out…and if we're lucky it might last…so we gamble, and try to guess how the year will go, so our production matches demand, all the while hoping we don't end up dumping plants that customers don't want if the spring reverts to cold and wet…streamlining and simplifying production is understandably tempting, but diversification is critical to small farm success. Small farmers like to joke that if it ever ALL worked out, we'd all be millionaires!

Greenhouse. Last month we got a large shipment of perennial organic herb starts delivered from Maryland (where production costs are so much lower in their warm climate) and we've been potting them up, and cranking up the heat in our greenhouses to get them through these cold nights (and cold cloudy days)!… along with our own seedlings which are growing nicely. They have also been joined by a large delivery of patented Proven Winners destined for summer patios planters, garden beds and hanging baskets, and sold through nurseries, stores and our farmers' markets, along with the over 500 varieties of vegetable and flowering plants we grow from seed. It's illegal to propagate PW plants, and its therefore not possible to certify them organically, but we pot them up in organic soil and grow them on with organic practices like the rest, feeling pleased that we can at least offer a far less toxic 'model' of these uniquely stunning varieties!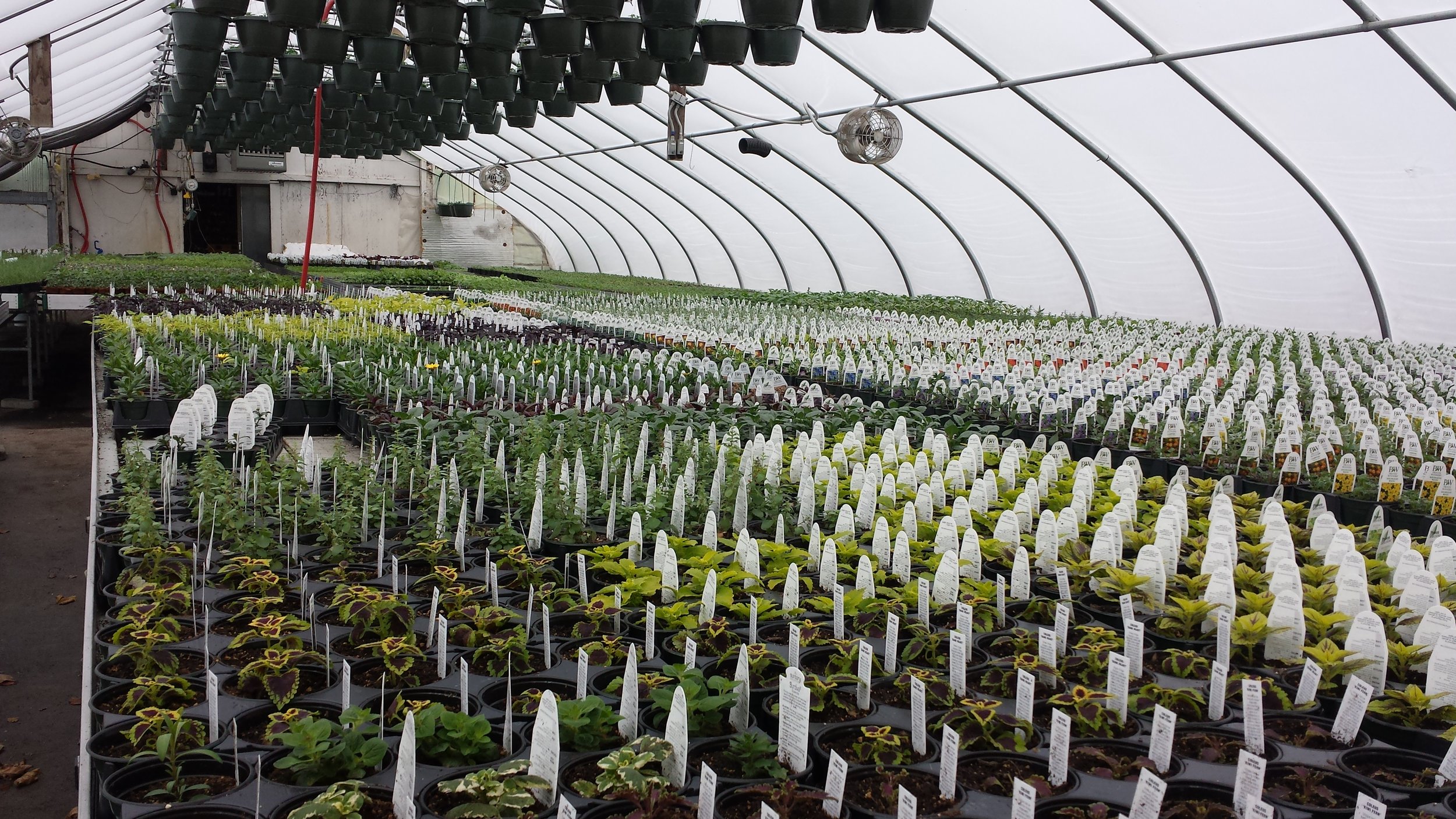 BridleWood-Blooms -
(coined a year after we purchased our horse farm, BridleWood;)
Specialty cutting flowers have always had a soft spot in my world and I am happiest in a field of well tended flowers. I keep adding new varieties and expanding older plantings, fanned by the recent explosion of floral excitement brought about through the global impact of social media. All winter I've been pouring over seed catalogs and reading articles about floral design, looking for new varieties and techniques. I just returned from Waco, Texas where I attended the second annual Team Flower Conference, that was so beautiful and inspiring, and where I made some of the best new friends ever!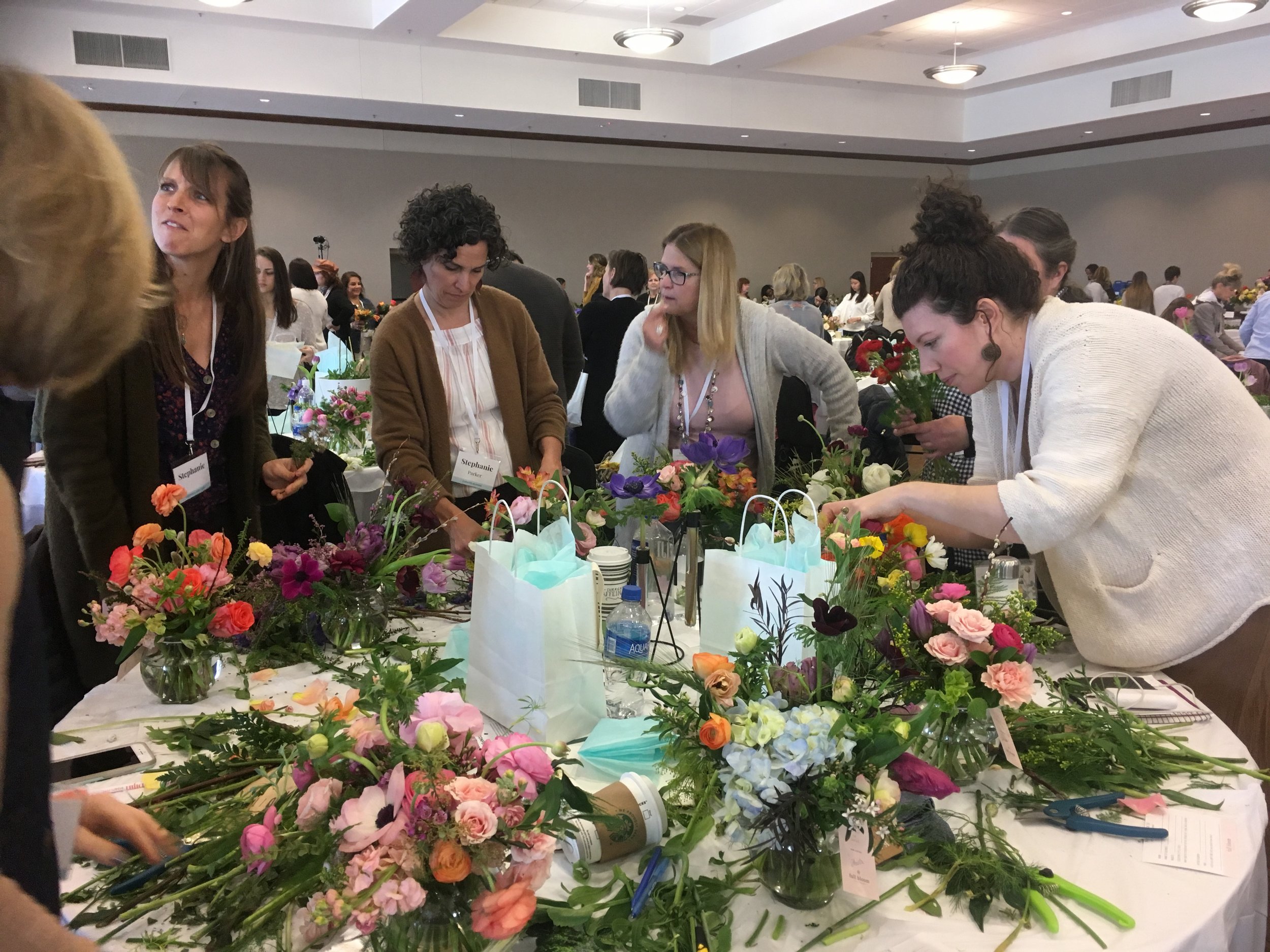 ..designing mini bouquets to be donated to local nursing homes, Team Flower conference, Waco @thefullbloom
On the home-front, we've got thousands of beauties germinating…Lisianthus, Digitalis, Campanulas, Snaps, etc.. with so many more to follow every couple days from now through the start of July, to ensure a full year of successions. We are using a new online program to keeps track of all our plantings, and it generates a seeding schedule that keeps us on top of our game…it's called Tend, and so far we are thrilled!

Ranunculus and Anemones are about everyone's favorite spring flowers, but since they are hardy annuals, that need cool weather, but no deep frost… protection is key (i.e.,a greenhouse to overwinter in). So I could never grow any, as our greenhouses are full of bedding plants until June :(….BUT last Fall, after doing a bit more research, we got inspired to put up a 'low-tunnel' in our field for them:)…the little corms got tucked under one layer of black plastic, two layers of remay, plus the plastic covered hoop over them…and I'm crossing my fingers that they will survive, but you'll have to stay tuned to see if the see-saw temps we've had already, from 60 to - 20 haven't vanquished them! On the next warmish day, Ill go scratch around and see if I find any life…I'll keep you posted!

For good measure, we also planted a bed of the most amazing specialty tulips, that should be just fine (rodents and/or deer notwithstanding!), and I cant wait to share them with you!!

Lillies are also tough to grow outdoors (due to rodent pressure) so I've got them started in the greenhouse too, in bulb crates…they are prechilled and are planted on a schedule, so I have a consistent crop in bloom from May through October. Last year was my first attempt and I also grew a mix of Asiatics, which are cheaper and dont have a fragrance, but I found that the Orientals were bigger with stronger stems, plus a much longer vase life, so I switched to all Orientals and a few LA Hybrids this time around…I found that anyone who is 'allergic' to their smell won't buy any type, regardless of the fragrance or lack thereof, so I'm sticking with my own favorites!:)



The big challenge with flowers is to always have a varied crop of blooms that can be combined into beautiful bouquets and arrangements at any point in the season. Successions are critical, so there's always a fresh crop, and the right mix takes years to refine, so as to always have the right elements that every arrangement needs…focal, spike, filler, texture…this is what I plan out by the fire as I plot the upcoming season each year, keeping in mind any wedding colors or other upcoming color specific orders!
Dahlias!! I only started growing them a couple years ago, but Oh-My am I hooked! The whole digging and storing the tubers 'thing', can be pretty daunting, but I just did my monthly check and they are holding beautifully in our cooler, wrapped in saran wrap (…a first for me, but working perfectly!). I will start potting them up this week in order to pre sprout them and take cuttings to expand my supply of favorites:) I'm so excited to share their magnificent blooms with you in late summer/fall, and hopefully be able to start offering my favorite varieties for sale as tubers, next winter, if they do well this year…for more pics and more frequent updates, follow us on IG @BridleWoodBlooms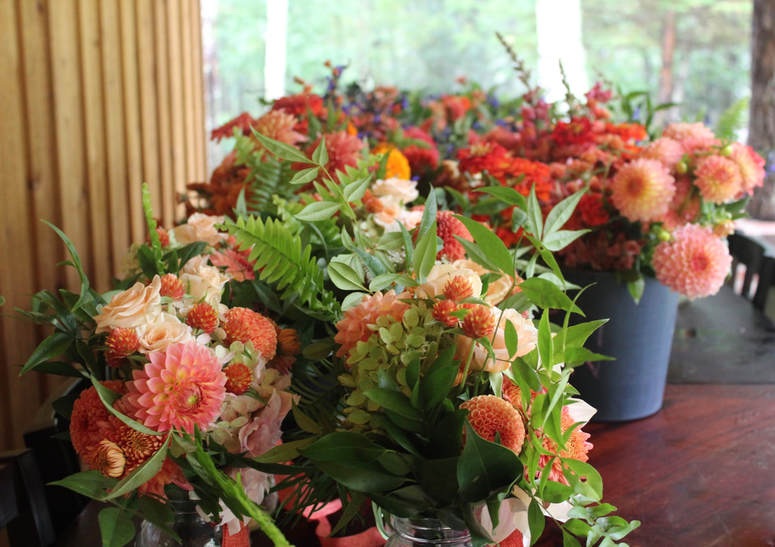 GOOD NEWS!! And last but definitely not least - I am so excited to offer an Organic Flower CSA from our own fields this year!! If you are longing for the fresh scent and sight of locally grown blooms, one of our subscriptions would be perfect for you, or as a gift for a flower lover in your life!
Read all about our options HERE!
If you check out the About Page on our website www.BridleWood-Dressage.com , it says it right there: For the Love of Horses…that is, pure and simple, what inspired us to take out a 20 year mortgage on what will be our life long project to rebuild this 60 acre farm with amazing potential! You just have to witness a man, woman, or child, connect with a horse for the first time, to experience the magic involved, and after setting foot on BridleWood for just 5 minutes on a sultry summer evening, you know immediately that you never want to leave. That's how I think all our horses feel, as they roam free on the open grass fields.
It didn't hurt that we had always dreamed of seeing this property brought back to glory, so when Martin came home one day from a hike on the AT and said, seemingly out of the blue, "I think we should buy BridleWood!", we were only speechless for a minute or two, before launching into all the plans we had been dreaming about for so long!
There are 7 buildings, (all in varying degrees of dilapidation), and 48 horses that were permitted to remain on the land, until the previous owner could rehome them. Many were given away and we are now down to 17 that will probably live out their life here, but they are magical too, and so far we have have room for them plus our own 7 horses and a few boarders, on the majestic pastures that create an idyllic haven for all of them.
As self made farmers and business owners, we know the hard work involved in realizing any dream, and with our now, seriously limited funds, we are constantly having to temper our master plan with PATIENCE! while diving into the big projects any way we can, to whittle away at furthering the dream…if we can't afford to hire someone, we'll just have to do it ourselves, is our common refrain:) We are thrilled to have the Buckbee's, Frank and Janet, as our on farm caretakers, and Frank is a skilled handyman/plumber/carpenter, etc(!) who leads the charge in many day-to-day projects, while Janet keep a watchful eye on the horses and helps manage the rental house that we renovated as an Airbnb (the photo above is taken from the porch of the Rental).
But what a joy, to see our children join the initiative and be a part of this new project as well, they know the potential and it has brought us further together as a family, and that is a GIFT!
We currently have a skilled couple, Molly and Taylor, on site, training and offering english/dressage lessons for beginner through 3rd level. They are wonderful with the horses and so patient and kind with every student! Check out the website for more info if you're eager to get back in the saddle, or feel free to simply schedule a visit if you want to see first-hand what's up at BridleWood (or Markristo Farm!) We'll keep you posted when we have our next community work day:) My cell is 518-965-4250 @bridlewood_dressage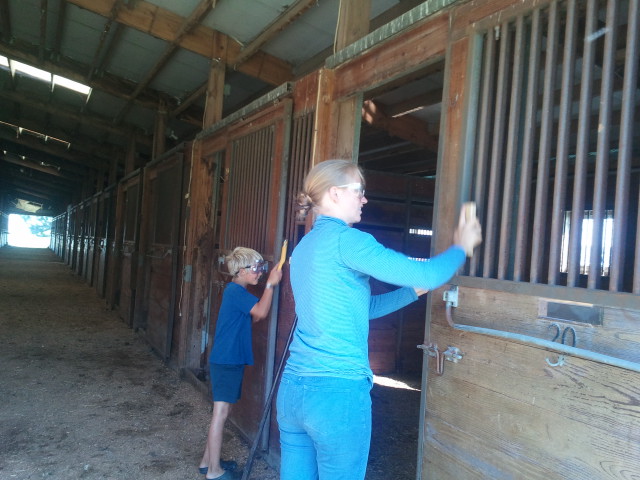 Matthias and Sarah wire brushing and painting the rusty bars…
Sarah wielding the sledgehammer!
Frank on the latest project, a beautiful new tack room!!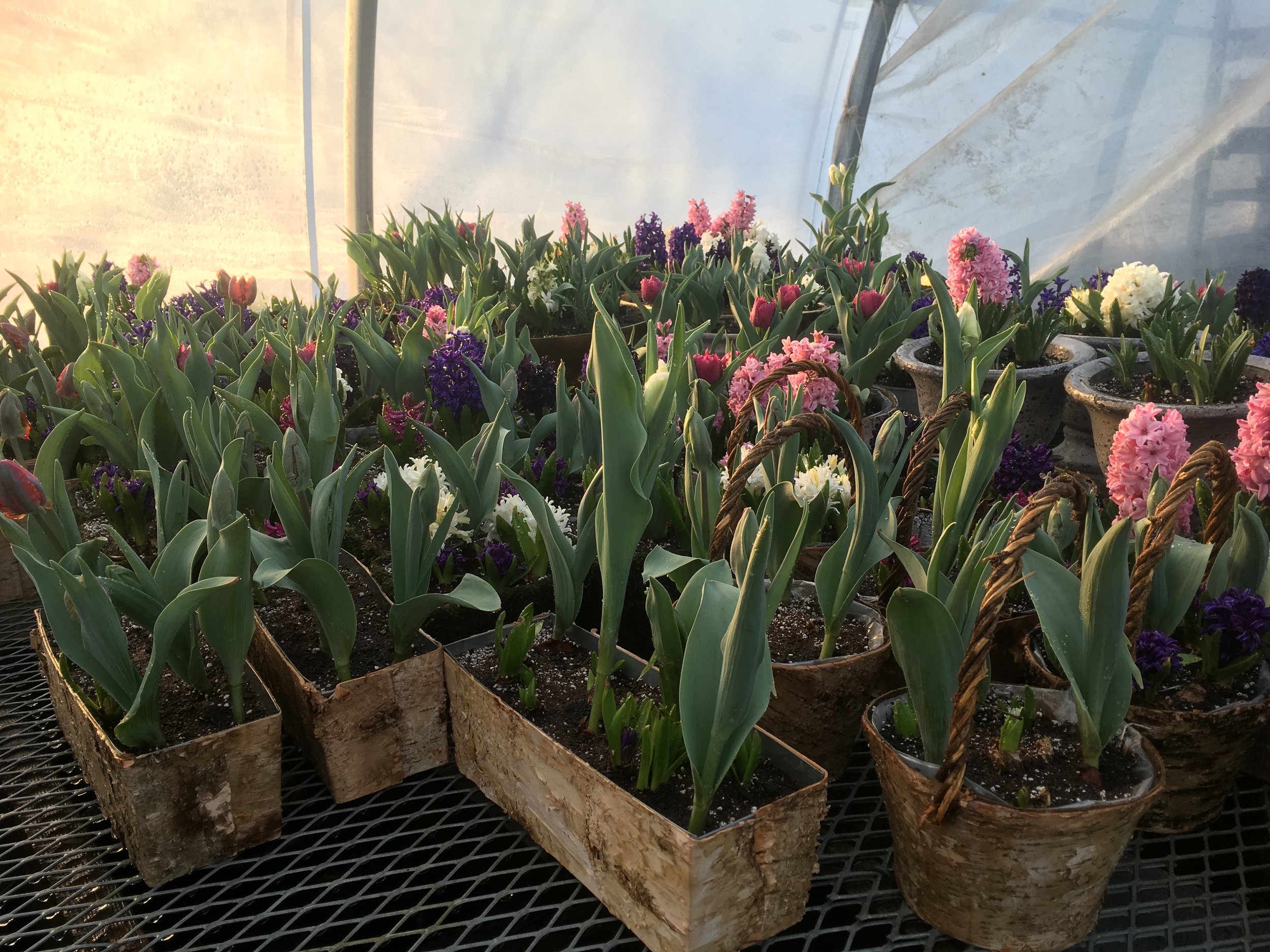 ..if you are in the area this weekend, we will be at the Berkshire Grown Winter Market, stop by and say 'Hi!' We have been growing these incredibly fragrant and colorful potted bulbs (tulips, hyacinth, snowdrops, amaryllis!) in the sweetest birch containers, to brighten these drab days! Pick one up for yourself and all your friends, they are the perfect dose of cheer, sure to put a smile in your heart!:)
Thank you all so much for your interest and support, I look forward to sharing the highlights of this life we call ours, and of course some of the challenges and lessons along the way!
Please leave your comments and questions below, as well as your name and where you are from, I can't wait to 'meet' you:)